June 30 – July 8, 2007
American Legion Post 73
Del City, Oklahoma
Lag Off – Winner was Mary Brown.  Lagged a 3 against 45 contestants
Round Robin Champion – Ted Canada & Joyce Gamble
Division 1 AB Draw (21 Teams)
---
| | |
| --- | --- |
| 1st Place | Mike Taylor & Sheryl Cockerill |
| 2nd Place | Kelly Cameron & Glen Davidson |
| 3rd Place | Bill Melton & Mitch Melton |
| 4th Place | David Williams, Jr. & Lenny Webster |
| 5th / 6th Place | Tony Pelton & Deb Voorhis |
| 5th / 6th Place | Larry Brown & Hoot Hodge |
Division 2 AB Draw (36 Teams)
---
| | |
| --- | --- |
| 1st Place | David Veazey & Cory Humlicek |
| 2nd Place | Gary Hagerty & Johnny Rogers |
| 3rd Place | Phil Railsback & Tre Cameron |
| 4th Place | Billy Poole & Loren Jorgensen |
| 5th / 6th Place | Tom Yates & John Boyer |
| 5th / 6th Place | Robert Hoffman & Alben McDonald |
| 7th / 8th Place | Gary Mahaffey & Sue Lewis |
| 7th / 8th Place | Alex Bagdikian & Phil Copeland |
Pro Singles (16 Players)
---
| | |
| --- | --- |
| 1st Place | Bill Melton |
| 2nd Place | David Williams, Jr. |
| 3rd Place | Al Salazar |
| 4th Place | Kelly Cameron |
Division 1 Singles (25 Players)
---
| | |
| --- | --- |
| 1st Place | Dave Shewbridge |
| 2nd Place | Jason Papa |
| 3rd Place | Craig White |
| 4th Place | Mark Gray |
| 5th /6th Place | Harvey Walden |
| 5th / 6th Place | Jim Kosiske |
Division 2 Singles (31 Players)
---
| | |
| --- | --- |
| 1st Place | Alex Bagdikian |
| 2nd Place | Lewis Bailey |
| 3rd Place | Jerry Romay |
| 4th Place | Steve Taylor |
| 5th /6th Place | Ryan Pearson |
| 5th / 6th Place | Robert Hoffman |
| 7th / 8th Place | Becky Foster |
| 7th / 8th Place | John Williamson |
Division 3 Singles (20 Players)
---
| | |
| --- | --- |
| 1st Place | Cory Humlicek |
| 2nd Place | Steve Soltis |
| 3rd Place | Phil Copeland |
| 4th Place | Anita Bloodworth |
6 Person (20 Teams)
---
| | |
| --- | --- |
| 1st / 2nd Place (Split) | Ken Storck, Phil Gardner, Jack Davis, Becky Foster, Gilbert Baird, Janice Hagerty |
| 1st / 2nd Place (Split) | Billy Mays, Harvey Walden, Jim French, Roy Applegate, Barb Head, Joetta Romero |
| 3rd Place | Jeri Williams, Gerald Wood, Sandy Blade, Warren Settegast, Jett Williamson, Tree Cameron |
| 4th Place | Jeff Womble, Mark Gray, Ed White, Gary Hagerty, Phil Copeland, Alben McDonald |
Division 1 - 4 Person (12 Teams)
---
| | |
| --- | --- |
| 1st Place | Diana Hagen, Brian Walker, Dave Shewbridge, Alex Bagdikian |
| 2nd Place | Kelly Cameron, Alfred Suarez, Greg Hixson, Becky Foster |
| 3rd Place | David Williams, Jr., Jerry Siebert, Ron Campbell, Jr, Lee McDonald |
Division 2 - 4 Person (14 Teams)
---
| | |
| --- | --- |
| 1st Place | Larry Ables, Don Roper, Robert Hoffman, Ryan Pearson |
| 2nd Place | Craig Bendickson, Jerry Romay, Gary Hagerty, John Boyer |
| 3rd Place | Glen Tubbs, Sandy Tubbs, Barb Head, Carol Pittman |
Pro Doubles
---
| | |
| --- | --- |
| 1st Place | Bill Melton & Tony Pelton |
| 2nd Place | Mike Taylor & Jeff Womble |
| 3rd Place | Kelly Cameron & Jeri Williams |
| 4th Place | David Williams, Jr. & Alfred Suarez |
Doubles Division 1
---
| | |
| --- | --- |
| 1st Place | Charles Peltier & Alex Bagdikian |
| 2nd Place | Hoot Hodge & Glen Tubbs |
| 3rd Place | Deb Voorhis & Jessica Williams |
| 4th Place | Wayne Hammond & Phil Railsbeck |
| 5th / 6th Place | Sheryl Cockerill & Pam Dowell |
| 5th / 6th Place | Robert Hoffman & Danny Baxter |
Doubles Division 2
---
| | |
| --- | --- |
| 1st Place | Loren Jorgensen & Cory Humlicek |
| 2nd Place | Mark Steelman, Jr. & Mark Bowd |
| 3rd Place | Dave Dickerson & Rob Weaver |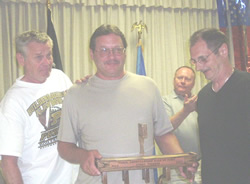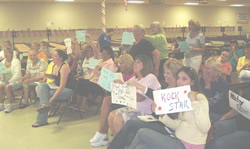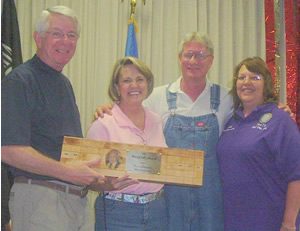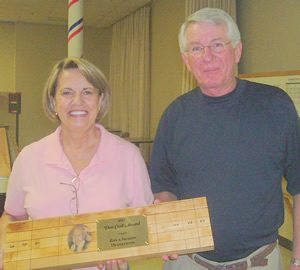 Don Crall Memorial Southwest Open 2007
Reported by Kathy Yingst
In spite of the torrential rains and the exorbitant gas prices, we had a good turnout at this year's Southwest Open. The players began arriving on Friday as Round Robins began and by the end of the week we had over 175 registered players.
This year a new award was given to the player who accumulated the most points from participating in and winning round robins throughout the week. The 2007 Round Robin King of the Jungle was Ted Canada. Ted will receive free registration and free entry in the AB Draw and the Draft events in next years Southwest Open.
A huge thanks goes out to Johnny Wayne for his work on getting the boards ready. The boards played great and the players were very pleased.
We would also like to give a big thanks to all the American Legion Post 73 volunteers, Eileen, Jack and Andy and all the bartenders and cooks for taking care of us all week. And we would like to thank the tournament staff; Jack, Jim, Johnny and Kathy, for their time and effort in making the tournament a success. We want to thank Ann Harrell for taking the pictures for all the events and for allowing us to use her pictures for the TSA Newsletter which will come out next month.
We also want to thank Norm and Debbie Allinder for all their hard work to make this tournament possible. Norm was not feeling well during the tournament but continued to help out where he could. Our thoughts and prayers are with his family.
Bobby Voorhis of Indiana was inducted into the national hall of fame on July 5th, 2007. A group of screaming women greeted Bobby as he came to the stage. I think Bobby actually turned red!
The introduction was made by Jim Payne of Nebraska. Testimonials were given by the following people: Jim Long of Indiana, Bill Melton of Oklahoma, Bobby Williams of Texas, Glen Davidson, Dudley Hutcherson.
Kathy Yingst read an email from John McDermott of the Shuffleboard Federation which included a round for the house! Kathy also read an email from George & Donna Wilbur, former Board Talk editors with congratulations to Bobby.
Larry Creakbaum told a story which may explain Bobby's habit of not flying any where and then Larry and Jerry Siebert of Michigan, both TSA directors, presented Bobby with his trophy.
Bobby graciously accepted his award though he said he didn't know how how he made it into the "old farts" club at his age!
The 1st Don Crall Award was presented to Ron & Sharon Huddleston for their work in promoting shuffleboard in OK, including the SW Open and Heartland Handicap tournaments.
Testimonials were given by Glen Davidson, Gerald Wood, Johnny Wayne Crawford and Kathy Yingst read an email from John McDermott.
Ron Huddleston spoke eloquently about Don Crall and how the SW Open went from 8 boards to 12 to 16 to 21 and so on.