May 25 – 28, 2012
Shelton Elks Lodge
Shelton, WA
Division 1 Singles
---
| | |
| --- | --- |
| 1st Place | Darrol Nelson |
| 2nd Place | Grant Manning |
| 3rd Place | Glenn Redding |
Division 2 Singles
---
| | |
| --- | --- |
| 1st Place | Kevin Ansbro |
| 2nd Place | Gary Dupont |
| 3rd Place | Aaron Nelson |
Division 1 Doubles
---
| | |
| --- | --- |
| 1st Place | Vern Gonzales & Grant Manning |
| 2nd Place | Joe Paszkowski & Mario Briones |
| 3rd Place | Jeff Mercer & Mike Waters |
Division 2 Doubles
---
| | |
| --- | --- |
| 1st Place | Kevin Ansbro & Aaron Nelson |
| 2nd Place | Gary Dupont & Ryan Strayer |
| 3rd Place | Bill Walker & Linda Walker |
A big howdy out there to all you folks in the shuffleboard community.  I'm just reporting' on the PNW Regional Tournament held in Shelton, WA this year over Memorial Day weekend.  Right outta the gate I gotta tell y'all that it was a great set-up fer a shuffleboard venue,  held at the Shelton Elks Lodge.  Doing this for the first time ever,  these Elks had no idea about what was going' to happen over  the course of five days of shuffleboard from start to finish, including' practice time.  All volunteers, these fine folks went outta their way cooking' for days before, serving' great food, loin' whatever they could  to accommodate a buncha rowdy shuffleboard players, and finding' out what this great game is all about.  I believe it was a grand success.  The Elks people were happier than a tick on a warm tom cat and have already stated that they would love to continue this event in the future.  I do believe, also, that the players felt that this was a heck of a site for this tournament.  All that I have talked to have voiced pretty much the same sentiments.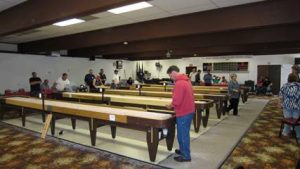 THE GOOD
5 boards with lots of room in one playing' area

Food and drink available at all times

5 acre campground, more than 20 full hook-up with firepit sites in an all grass, secluded, park-like atmosphere.

Beverages OK to have inside OR outside anywhere on Elks property.

Olympic shuffleboards provided by Vern Gonzales, while challenging, played great!
Littlecreek  Casino less than 5 minutes from the lodge.
THE BAD (only one)
The economy…the economy…the economy
            One little old thing I'd just like to mention, and that's a special note of gratitude to those folks who came a long way to participate in this tournament — several players from Oregon and from Canada.  Knowing' that traveling' right now is mighty spendy, I'd just like to give a great big THANK YOU to all that took the time and expense to help make this PNW tournament a success.  A big ol' thanks also go to Vern Gonzales and Mel Hohn fer running' the show.  I'm jest hoping' next year will bring better economic times and that folks out there who couldn't attend will be able to participate in a truly excellent venue for this game.
            Lastly, I know there has been talk about the PNW tournament location in the future, and I surely hope those deciders out there talk to those who attended this year to find out just how awesome this Elks facility, the campground, playing' condition of the boards, and over-all atmosphere for conducting a quality tournament of this magnitude can be.  Olympic Shuffleboard has also stated that if continued at this location the number of boards in play will increase to six or seven for next year.  I end this with my own only negative for the tournament.  Darrol beat me like a rented mule in the singles finals.  It took me a week to recover.  That, That, That's all, folks.