May 13 – 15, 2005
Draw Partner (12 Teams)
---
| | |
| --- | --- |
| 1st Place | Paulette McKinney & Gary George |
| 2nd Place | Don Mitchell & Bob VonBargen |
| 3rd Place | Fred Johns & Mel Hohn |
Mixed Doubles (20 Teams)
---
| | |
| --- | --- |
| 1st Place | Clark Kenney & Clara Kenney |
| 2nd Place | Donald Mitchell & Ruby Mitchell |
| 3rd Place | Loren Lampley & Paulette McKinney |
| 4th Place | Mike Waters & Judy George |
| 5th / 6th Place | Gary George & Junell Schrum |
| 5th / 6th Place | Rob Haidel & Hazel Thorpe |
Clark and Clara Kenney went undefeated over the weekend to win the mixed doubles tournament at the Mud Bay Tavern.
Twenty teams took part in the tournament.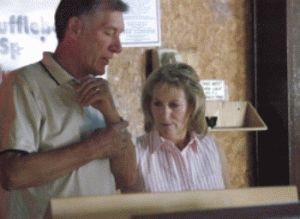 The Kenneys, who took a long break from shuffleboard after being two of the top players in the Pacific Northwest for years, won their first tournament since returning to competition a little more than a year ago.
Donald and Ruby Mitchell claimed second place. It was Ruby's highest tournament finish and she credited her Pacific Northwest Hall of Fame husband with helping to accomplish the fete.
Loren Lampley-Paulette McKinney finished in third place as Lampley works on his comeback to the game.
Mike Waters-Judy George finished fourth while Gary George-Junell Schrum and Rob Haidel-Hazel Thorpe shared fifth and sixth.
Paulette McKinney and Gary George won the Friday night draw over 12 other teams. Don Mitchell-Bob VonBargen were second with Fred Johns-Mel Hohn finishing in third.