November 11 – 13, 2005
Ernie's Fir Cone
Shelton, WA
AB Draw
---
| | |
| --- | --- |
| 1st Place | Joe Smith & Mel Hohn |
Doubles
---
| | |
| --- | --- |
| 1st Place | Paulette McKenney & Loren Lampley |
| 2nd Place | Michelle Foran & Dick Doak |
| 3rd Place | Carl Roush & Penny Jorgensen |
| 4th Place | Clark Kenney & Claire Kenney |
Logic tells us that the very weekend after a record turn out at the NASC in Reno would not be a good time to hold a tournament. However, Ernie's Fir Cone has a history of doing what appears on the surface as a bad idea. Why mess with history? Why mess with success? The 20th Annual Mixed Doubles at Ernie's Fir Cone was just that, a historical success.
While all tournament at Ernie's Fir Cone are a success, regardless of when they are held, there is a historical mystery that plagues all these tournaments. Why do the boards mystically change prior to every tournament? Explanations range from the strange to the bazaar; The tide is out or in, the weather changed, board pixies, aliens, and yes, even big foot. Well, this year we solved the mystery. Why we even caught this phenomenon on film.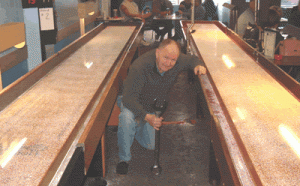 Any questions? As with all rural legends, the picture is a little fuzzy. But, if you look close you'll see Northwest Hall of Famer Dick Doak with a 4 foot tall open end wrench he calls the "tweaker".