August 4 – 6, 2006
Whistling Oyster Bar
Quilcene, Washington
August_2006_WhistlingOyster16thGrandMastersPlus_Results
AB Draw #1
---
| | |
| --- | --- |
| 1st Place | Darrol Nelson & Mike Redinger |
| 2nd Place | Larry Sawyer & John McGinnis |
| 3rd Place | Frank Mako & Bill Walker |
AB Draw #2
---
| | |
| --- | --- |
| 1st / 2nd Place (Split) | Mike Waters & Jake Jacob |
| 1st / 2nd Place (Split) | Gary George & Frank Mako |
| 3rd | Rick Shaw & Judy George |
Doubles
---
| | |
| --- | --- |
| 1st Place | Darrol Nelson & Mike Waters |
| 2nd Place | Don Mitchell & Les Burt |
| 3rd Place | Al Pease & Alvin Orcutt |
| 4th Place | Bill Walker & Jim Watson |
AB Draw
---
| | |
| --- | --- |
| 1st Place | Carl Rousch & Frank Mako |
| 2nd Place | Mike Waters & Judy George |
| 3rd Place | Clark Kenny & Alvin Orcutt |
Thursday, August 4, 2005
Note: Darrol Nelson drew Mike Redinger and went through some tough teams for a 1st place win. By the way, Mike plays from a wheelchair, but don't think that interfered in his shooting ability. The only thing we need was more room. Fine playing people!

Friday, August 5th, 2005
This at one time was called easy money on all our tables because any two players could dominate any boards all evening. We were the first to start the Friday night draws, to open up the tables. We have had success ever since 1991 as well as all other Washington tournaments.  This Friday night was pretty smooth, once we figured out the A/B. We were able to end at 12:45 am. Everyone was rested up for Saturday. Thanks go to Eddy and Joe.

Daja vu all over again
This part of the tournament could almost be Deja vu. Darrol Nelson and his partner, Mike Walters never faltered from start to finish, in a field of tough players. Darrol has won the doubles 9 years out of 15 years here (with 5 different partners).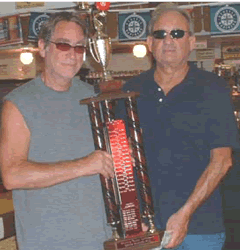 A great time was had by all, the motel and hotel and park were full. The jungle was full also (and quiet). Thank you!
Thanks to Clark Kenny and Don Mitchell for the sales. Thanks to Sandee, Ruby and Linda for all the help with the food that we had Saturday and Sunday.
Also thanks go out to players and spectators. No complaining, no whining. This makes our jobs easier. Love you all and hope to see you next year, August 4-6, 2006.
The Weekend Participants:  Larry Sawyer – WA, John McGinnis – CA, Clark Kenney – WA, Clara Kenney – WA, Joe Smith – WA, John Martin – WA, Jake Jacob – British Columbia Canada, Mike Waters – WA, John Fulton – WA, Gary George – WA, Jeff Kersting – WA, Don Mitchell – WA, Darrol Nelson – OR, Judy George – WA, Les Burt – WA, Carl Rousch – WA, Al Pease – WA, Eddy Brayman – CA, Lorraine Olson CA, Mel Hohn – WA, Jeannette Hohn – WA, Jeff Young – WA, Bill Walker – WA, Jim Watson – WA, Alvin Orcutt – WA, Tommy Campbell – WA, Rick Shaw – WA, Frank Mako – WA, Jim Tribble – WA, Bob VonBargen – WA, Marv Wilbur – WA, Fred Johns – WA, Rick Gindt – WA, Mike Redinger – OR.

| | |
| --- | --- |
| | Kersting_George |
| Kenneys | Shaw_Campbell |