February 28 – March 1, 2020
Biggles
Houston, Texas
Singles (16 Players)
---
| | |
| --- | --- |
| 1st Place | Omar Cruz |
| 2nd Place | Kelly Cameron |
| 3rd Place | Neil |
| 4th Place | Diana Hagen |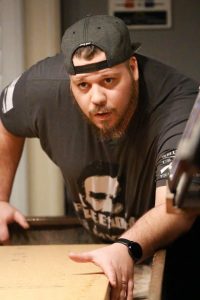 We had a very successful Inaugural Biggles City Championship.  Thank you everyone for coming out and playing your heart out!  Friday night started with the Qualifier with 13 players.
Congratulations to Ryan Reed, Jacey Pischel, Sheriff Hallberg, and Joe Charpentier for advancing into the Championship.  Saturday's group play commenced for about 5 and half hours
with the top 2 players advancing to the sweet 16.
The elite eight consisted of Kelly Cameron, Casey Ables, Diana Hagen, Mahlon Nobles, Roger Holloway, Neil Rodrigue, Bob Dean and Omar Cruz.  The final four came down to Kelly Cameron (1st seed), Diana Hagen (5th seed), Neil Rodrigue (10th seed) and Omar Cruz (18th seed)
Congratulations to Diana Hagen and Neil Rodrigue for coming in 3rd 4th place.
Congratulations to Kelly Cameron for placing 2nd place.
And our 1st Houston City Champ is Omar Cruz!
We'd like to extend special thanks to Debbie and Dave Sexton and anyone else who helped with the format of The San Antonio city champion.  We drew a lot of inspiration from their model even though we did things a little differently. Thank you for being so helpful and forthcoming.  Thank you to Obie Pierce as well for your input on group play and the format of the tournament.
We look forward to this little seed planted revolving around a Texas Wide Championship. We have some really outstanding players in all cities that should be showcased.