March 3 – 6, 2005
Danny's Sports Bar & Grill
Houston, TX
AB Draw Division 1
---
| | |
| --- | --- |
| 1st Place | Mike Taylor & Bill Rice |
| 2nd Place | Mahlon Nobles & Doug Paben |
| 3rd Place | Billy Melton & Alfred Suarez |
AB Draw Division 2
---
| | |
| --- | --- |
| 1st Place | Cliff Visel & Jeanine Carmack |
| 2nd Place | Jimmy Britt & Dar Cummings |
| 3rd Place | Lee Boyajian & Roy Boll |
Bring Partner Division 1
---
| | |
| --- | --- |
| 1st Place | Doug Paben & Mike Taylor |
| 2nd Place | Mike Regan & David Williams, Sr. |
Bring Partner Division 2
---
| | |
| --- | --- |
| 1st Place | Charles Peltier & Kyle White |
| 2nd Place | Cliff Visel & Craig White |
| 3rd Place | Linda Nobles & Jessie Lueahn |
| 4th Place | James Cummings & Erik Synder |
Division 1 Singles
---
| | |
| --- | --- |
| 1st Place | David Williams, Sr. |
| 2nd Place | Billy Melton |
| 3rd Place | Kelly Cameron |
Division 2 Singles
---
| | |
| --- | --- |
| 1st Place | Linda Nobles |
| 2nd Place | Charles Peltier |
| 3rd Place | James Cummings |
| 4th Place | Martin Jordan |
| 5th / 6th Place | Danny Green |
| 5th / 6th Place | Del Ammermann |
Division 3 Singles
---
| | |
| --- | --- |
| 1st Place | Warren Settegast |
| 2nd Place | Brian Altman |
| 3rd Place | Lee Boyajian |
| 4th Place | Gary Mahaffey |
By Danny Norris (owner of Danny's Sports Bar & Grill) – The 7th Annual Texas State Championship was held at Danny's Sports Bar & Grill in Houston, Texas from Thursday, March 3rd thru Sunday, March 6th.  There were a total of 81 registered players competing on 8 boards.
First, I would like to "thank" the staff who helped make this event a huge success:
Mahlon Nobles – Boards, lights, and everything else as far as setup, and board adjustments.  A terrific job on board adjusting, as they all played fantastic.
Linda Nobles, Mollie Cravey, and Denise Klein – Registration and generally making sure everything ran smoothly and on time.  Terrific job.
Harvey Kidd – Sponsor Sales,  Great as always.
Bill Rice & Brian Walker – Bracket Boards.  The two best
Wayne Hammond – Cleaning and spraying the boards.
As you can see it was a real team effort, thanks again to you all.  FYI, Brian Walker just returned from a long stay in Florida where he was working.  He got back to town on Saturday and almost immediately, showed up to help with the tournament and the bracket boards and was there almost every minute of the tournament after that.
March 3 – 6, 2005 Bring Partner Division 1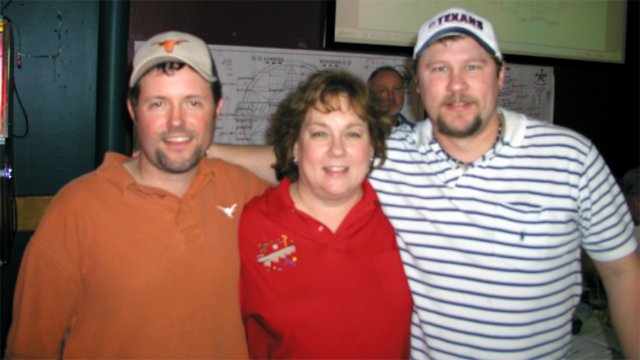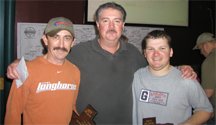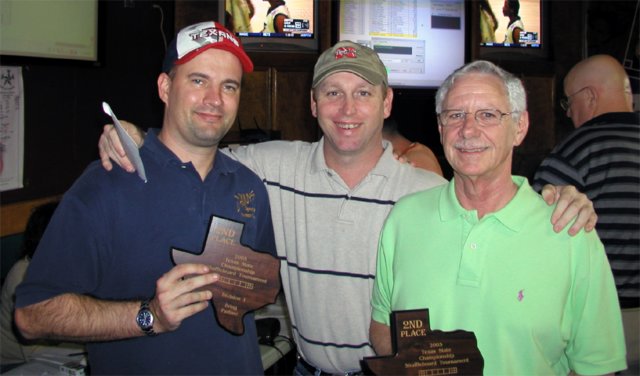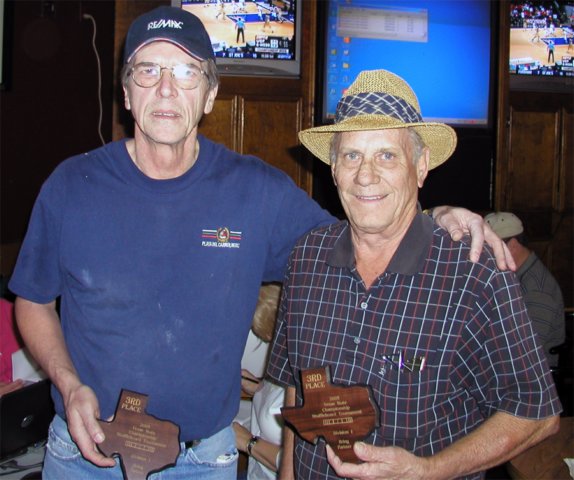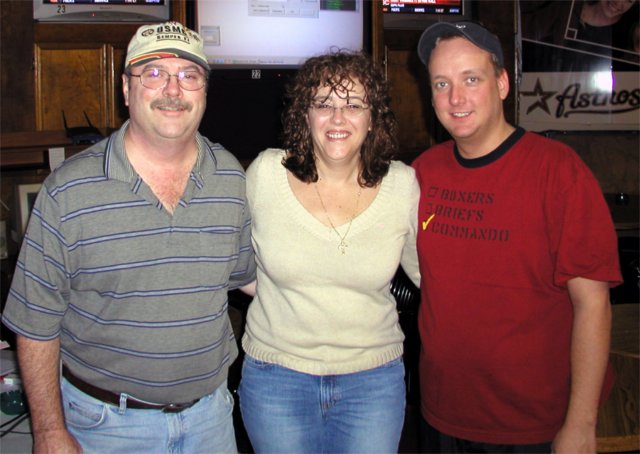 March 3 – 6, 2005 Singles