February 13 – 18, 2008
Moose Lodge 391
Stockton, CA
AB Draw
---
| | |
| --- | --- |
| 1st Place | Nick Chaffin & Paul Panholzer |
| 2nd Place | Bob Crum & Barbara Crum |
| 3rd Place | Jim Martin & Ron Graham |
ABC Draw
---
| | |
| --- | --- |
| 1st Place | Bob Crum, Cindy Clark, Dave Gunsaulis |
| 2nd Place | Darrol Nelson, Barbara Crum, Don Prescott |
Open Singles
---
| | |
| --- | --- |
| 1st Place | Darrol Nelson |
| 2nd Place | Bob Crum |
| 3rd Place | Bob Hunt |
Open Doubles
---
| | |
| --- | --- |
| 1st Place | Bill Maxwell & Joe Muniz |
| 2nd Place | Darroll Nelson & Dave Keithahn |
Amateur Singles
---
| | |
| --- | --- |
| 1st Place | Dan Glasscock |
| 2nd Place | Jane Mourgos |
| 3rd Place | Barbara Crum |
Amateur Doubles
---
| | |
| --- | --- |
| 1st Place | Barbara Crum & Paul Panholzer |
| 2nd Place | Cindy Clark & Scott Vaughn |
I would like to thank all the participants in this event, especially those that made this a tri-state event; Cindy Clark, Lewis Bailey and Scott Vaughn from Arizona and Darrol Nelson, Billy Maxwell, Mike Rapp, Don Prescott, and Lorraine Olson from Oregon.  We were also glad to have Joe Muniz and the President of the California Shuffleboard Hall of Fame, Jimmy Martin from southern California attend.
Many thanks to Dave Keithahn for providing 7 boards, along with the help of Dan Mourgos, John Azevedo and Eddie Brayman.  Thank you Bob Crum for laying all the carpet around the boards.  Thanks to Jane Mourgos and Kathy Thomas for handling the money and for helping with the cleanup after the event.  Also, thanks from all of us to Dave Hoagland for setting up a great sound system for us.  We really appreciated that!
Dave Keithahn has promised 8 new boards and cradles for this tournament next year. 
Jimmy Martin made a video of the event and will have CD copies for sale.  If you are interested in purchasing one, please contact him at themarlin@verizon.net.  They cost $15 each, $10 of which goes to the California Shuffleboard Hall of Fame.
Rick Thomas
Open Doubles
1st Place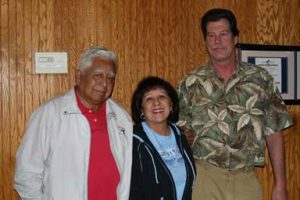 2nd Place