August 18 – 19, 2007
Rosewood Pub
Bellflower, CA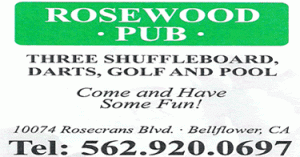 ABC
---
| | |
| --- | --- |
| 1st Place | Ernie Alverez, Pearl Minard, Craig Amundson |
| 2nd Place | Allan Healey, Dave Moody, Gary Jones |
| 3rd Place | Susie Jones, Jerry Harp, Bobbie Duncan |
Bellflower, CA – The local team of Craig Amundson, Ernie Alverez, and Pearl Minard got together and won the ABC draw tournament held August 18-19, over a field of 8 other teams.  This team was made up of the highest rated player in each of the three categories which is just the luck of the draw but which also led to their Calcutta being the highest.
The Amundson-Alverez-Minard combination defeated the team of Gary Jones, Allan Healey, and Dave Moody in the finals to capture the winner's share of the $675 entry fee and $1,560 Sponsor money. Mo Harley sponsored the winning team.  Jerry (Humdinger) Harp, Susie Jones, and Bobbie Duncan finished third.
Pearl Minard was the third oldest player entered in the tournament with the oldest being Joe Giampetro followed by Dorothy (Dot/Tiger) Bastanchury.  They all make those of us in our seventies jealous of their skill and persistence.
Play began in the best two-out-of-three, double elimination tournament on Friday evening, August 18, following the team auction and ended on Saturday. Paramount's Paul Weber handled the auction duties with Tournament Director Craig Amundson handling the tournament bracketing. The 9-team entry list brought 7 byes for the tournament with the team of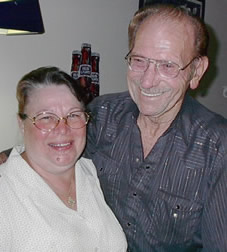 Brunskill-Boik-Brannen drawing the team of Jones-Healey-Moody as the only first round game played.
Thanks goes out to Rosewood Pub owners Bud Taylor and B. B.  Boik for being gracious hosts, to the bartenders and to the many patrons who brought food for the outstanding buffet on Saturday afternoon.
Bob Brunskill reporting